Brunch Craze Buenos Aires: Part I
Remember the days when the only kind of breakfast you could order was tostadas, medialunas or some other carbohydrate to accompany your coffee and juice? The mornings, or midafternoons, of egg-less, potato-less, bacon-less options to tame your hangover have disappeared to be replaced by an explosion of restaurants and cafes offering a selection of brunch items that will make your mouth water. The brunch craze has been building for the last year, and we thought it was high time we offered a run-down of some of the best brunch options in Buenos Aires.
Newcomer
Magdalena´s Party (Thames 1795, Palermo) offers a scrumptious variety of brunch plates that make it hard to decide what to order. The American Diner special: eggs the way you like em, home fries, bacon and toast; the Cali Coast Omelet: a crepe stuffed with eggs, black beans, salsa, avocado and cheese; and a fluffy Belgian waffle (with real maple syrup for a couple more pesos). Prices are 40-50 pesos, but for the savvy Facebook users, you already know that Magdalena´s commonly offers 2 for 1 brunch on the weekend. That means you can get some of the best American brunch goodness (and a lot of it) for somewhere between 20-30 pesos.
Multiple Courses
Brunch becomes a multiple plate experience at cozy Malvón (Serrano 789) in Villa Crespo on weekends until 4:30 p.m. The meal begins with a basket of fresh breads baked in-house and served with strawberry butter. You can choose to order a sandwich or other option, but we recommend the hefty brunch menu for those looking for the real thing. The semi-set brunch menu offers you various options, and comes with a cocktail of the day and either café con leche, fresh lemonade or flavored water. The decision-making process continues with the election of the main course, among them: eggs Benedict, fried eggs over bacon and potatoes, a frittata, and French popovers stuffed with delicious fillings. To top off your brunch experience, all dishes are accompanied by a portion of mini-blueberry pancakes, a piece of cornbread AND a choice of a brunch side (chicken wings, guacamole, grilled veggies, cole slaw). Prices are about 50 pesos for all of this.
Another brunch that comes in courses is at CorsoComo (Humbolt 2125), a sheek but cozy restaurant in Palermo Hollywood. Specials change daily, but they´ve been known to offer a weekend 2-person, 4-course, 2 drinks each brunch, for 100 pesos. When we went, three of us walked out full from this deal. The stomach-stuffing meal began with a tray of 6 heavenly mini sandwiches (lomo, jamon crudo and chicken), followed by a version of eggs Benedict, then French toast and finally dessert. We were so stuffed we took the bagful of cakes, brownies and cookies to go.
One of the oldest existing traditional brunches in Buenos Aires is at Novecento at Baez 199. 2 courses are served with multiple plates, drinks (champagne mimosas or bellinis) and coffee all included for 2 people. First round is savory, including eggs, sausages, dips and other goodies.  The highlight of the second sweet course is definitely the blueberry waffles topped with coconut cream. Careful, they only serve brunch on Sundays and they consistently run out of brunch supplies by around 3:00 pm.
Bargain Brunches
The days of 20 peso meals, complete with café con leche, are far gone thanks to continually creeping inflation. It´s not uncommon to walk into a restaurant just a week after your last visit to find all dishes have gone up 2 or 3 pesos. That´s why we love the following spots to get our brunch on without breaking the peso bank: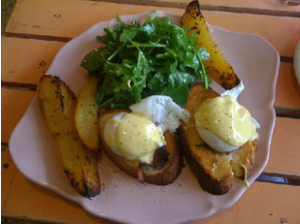 We have a lot of love Oui Oui (Nicaragua 6068). They have a great brunch deal plus it´s an adorable French café filled with delicious smelling pastries and cute décor. It´s actually two separate tiny cafes on Nicaragua in Palermo Hollywood, one on the corner of Dorrego and the other just a few steps down the street. The Eggs Benedict is the clear brunch winner here, accompanied by potatoes, salad and café, for just 30 pesos. Oui Oui also offers a tantalizing variety of muffins, bagels, cookies and sweets, in addition to a variety of salads and baguette sandwiches.
Tried and True
Sugar Bar (Costa Rica 4619) brunch is a well-known institution among the expat crowd in Buenos Aires for its heaping plates of traditional breakfast goodness. The Hearty English breakfast serves you with a plate full of the classics – scrambled eggs, toast, sausage and bacon, potatoes and onions. They also serve a variety of omelets, and have a pancake and waffle offering only on the weekends.
Ladies Brunch
The wildly popular monthly "Ladies Brunch" started in 2009, and takes place in cities across Argentina, offering the chance to meet new girlfriends and network over delicious brunch meals. The July Ladies Brunch Buenos Aires filled up Lo de Coki Cantina Chic (Amenábar 93) and offered a set brunch for 80s pesos that offered eggs, salad, potatoes, a variety of dessert options and coffee/tea. While we haven´t checked it out yet, it´s on the list for August.
The Roundup
There are heaps of other places all over the city offering up brunch deliciousness. We´ll be back soon reviewing more tasty places, in the mean time, if you have recommendations, let us know!