The LandingPadBA weekly summary of things to do, tours, free events and activities in Buenos Aires for the week of February 15th through 21st.
For a more general list of activities, tours and travel information that are not so time sensitive check out our article theThings you must do in Buenos Aires. It covers all of the basic things you should see and do in Buenos Aires including the many outdoor markets to visit, various cuts of beef to try, beverages like mate (Argentinean tea) and fernet and much more.
_____________________________________________________
Random Things You Should Do This Week:
We will giving away some free tickets on our Facebook page this week. Keep an eye out and win some free loot! As usual, the questions will be complete randomness (see the last one relating to the greatest 90′s action film "Demolition Man")
____________________________________________________
Buenos Aires Weather Forecast
Here comes the rain!
____________________________________________________
Soccer Games
We have two seating options for the River Plate game…
River Plate vs Independiente de Rivadavia Saturday, February 18th
Kick off: 7:15 pm
Pick up from meeting points starts at: 3:30 pm
Package 1 includes:
+Transportation to and from the game from meeting points in Palermo and Centro
+Bilingual guides
+La Popular section ticket (middle deck behind goal or upper side deck, individual seating)
+Pregame beers and hot dogs
$450 pesos
or

Package 2 includes:
+Transportation to and from the game from meeting points in Palermo and Centro
+Bilingual guides
+Platea baja lateral (Lower side deck, individual seating)
$490 pesos
To make a reservation please email us at LandingPadBA@gmail.com or visit the soccer tickets section of LandingPadBA.
__________________________________________
San Lorenzo vs Estudiantes, February 19th @ 5:00 pm
+Transportation to and from the game from meeting points in Palermo and Centro
+Bilingual guides
+Side deck section, individual seating ticket
$480 pesos
To reserve your spot send us an email at LandingPadBA@gmail.com, subject line San Lorenzo/Estudiantes
____________________________________________________
*Suggestions for Activities, Tours and Events this Week*:
____________________________________________________
Wednesday, February 15th:
-7:00 pm – 09:00 pm: Try out Spanglish (English and Spanish language exchange) where tables of locals and internationals are paired (native Spanish speakers with native English speakers) in a series of 10-minute conversations (five in English and five in Spanish). Participants get to practice one-to-one with at least five different native speakers. Meet other travelers, Argentinians and have a good time. "Koh Lanta" located at Gorriti 4647 in Palermo Hollywood, Check-in until 7:30 pm.
-Group polo lessons run every Monday, Wednesday and Friday starting at 1:30 pm, beginners and experts welcome. Transportation, all equipment, bilingual instructor all included: $110 USD
To make a reservation please email us: LandingPadBA@gmail.com or visit the polo lessons section of LandingPadBA.
-Join Buenos Aires Futbol Amigos and play with travelers, expats, students and locals alike on Wednesday. Five-a-side football matches organized by BAFA. Matches starting at 7pm and 8pm at Soler 3231. Cost is $30 pesos per game. (Wednesday, November 9th matches will be suspended, but played later in the week)
____________________________________________________
Thursday, February 16th:
Chef Liza Puglia will be having a pop up restaurant night at Tout le Monde Cafe, Gurruchaga 1417 in Palermo Soho. Specialty tacos, sandwiches, cocktails and homemade bread. Happy hour from 5 pm to 8 pm with 2 x 1 jalapeno margaritas, sangria, paloma and the house specialty- Agua de Valencia. $15-40 pesos per food dish
-Cafe de los Angelitos is quickly making a name for themselves in town after just a few years of operation. It has won our vote for the best overall value. We are one of the only places that offer electronic payment in full.
Cafe de los Angelitos Dinner and Tango show is offering their executive service (transportation to and from, 3 course dinner, bottomless wine glass and 1.5 hour tango show) for $130 USD. Contact us directly at LandingPadBA@gmail.com or visit the tango tickets reservation form here.
-Start your Palermo Thursday night out at Magdalena's Party located on Thames and Costa Rica (near Plaza Italia in Palermo Soho). DJ's, 2 x $30 pesos happy hour until 12 midnight, California burritos, tacos and more. And they only serve the good stuff…
The alternative theater group Avitantes has begun their 2012 spectacle "Ojos Cerrados" or blind theater. It is a very unique theater experience where theater goers are blind folded and… well, we don't want to spoil it for you! A definite thing to do in Buenos Aires- most of us from LandingPad BA have gone and all have loved it! Highly recommended*. Teatro La Comedia, Rodríguez Peña 1062 on Thursdays at 9 pm, Saturdays at 11:00 pm. Show up 30 minutes early for tickets or contact avitantes@yahoo.com.ar
Want to hear real tango music without all the bells and whistles? Check out Fernando Fierro at Caff in the neighborhood Abasto. Located at Sánchez de Bustamante 764. $40 pesos cover charge
____________________________________________________
Friday, February 17th:
-Add a bit of Malbec into your Buenos Aires exploration with a wine tasting with Anuva Wines for $46 USD. Includes 5 regional wines from Argentina plus tapas.
11:59 pm: You dig jazz, cat? Head over to Club Notorious on Callao 966 in Recoleta for free entry at midnight. 2 for 1 Warsteiner beers and a jazz jam session. Good way to start your Friday night.
____________________________________________________
Saturday, February 18th:
2:00 pm: One unique thing to do in Buenos Aires is visiting the Hippodromo horse track and see the horses race on a nice afternoon and evening at Libertador 4101 (corner of Libertador and Dorrego). Entrance is free, betting optional. No alcohol on the premises*. Races start around 2 pm and run until 10 pm.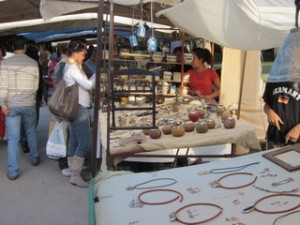 -Flea markets, outdoor artisan markets, hand made goods- check out one of Buenos Aires' many ferias on Saturday or Sunday. Everything from antiques and collectables to modern leather purses and silver work. Here's a link to our list of the best outdoor markets and ferias in Buenos Aires.
Try out the Ultimate City tour (by bike) this Saturday. It leaves from San Telmo (Defensa y Independencia), costs $280 pesos, includes a lunch and covers: La Boca, San Telmo, Puerto Madero, Ecological Reserve, Plaza San Martin, Recoleta Cemetary and Plaza de Mayo.
It usually lasts about 7 hours and starts at 10am. Plus it with my favorite bike tour guys – Biking Buenos Aires
-River Plate vs Independiente de Rivadavia soccer match, details above*
-The new photography based scavenger hunt Foto Ruta will be running in the Recoleta neighborhood, at a to be determined cafe from 2 pm until 6 pm. $100 pesos to participate, sign up in advance through email to hola@foto-ruta.com.
Want to hear real tango music without all the bells and whistles? Check out Ramiro Gallo y la Orquestra Arqutipica at Caff in the neighborhood Abasto. Located at Sánchez de Bustamante 764. $60 pesos cover charge
____________________________________________________
Sunday, February 12th
-San Lorenzo vs Estudiantes soccer match, details above*
-Go get a tasty Sunday morning/early afternoon Buenos Aires brunch before visiting the San Telmo Sunday fair. Lots of suggestions for eggs benedict, hash browns, bacon, mimosas, bloody mary's and more.
-While visiting the San Telmo fair, try to find local hot sauce peddlers and celebrities Ya Ya Bean. You'll know when you find them-
10:00 pm to 12 midnight: Cuban salsa y latin jazz trio plays every Sunday at Pan y Arte, Boedo 880 for free. Excellent piano player.
____________________________________________________
Monday, February 13th:
-We are continuing the promotion for Verde Manzana, Urban Spa for $35 USD 1 hour massages or $200 pesos for a 2 hour massage. Feel free to schedule an appointment directly and mention the promotion or if your Spanish skills are lacking or you just have "fiaca" request a reservation for a massage through LandingPadBA.
____________________________________________________
Tuesday, February 7th:
Going out on Tuesday in Buenos Aires? Go with the big night out starting at Sugar with happy hour drink specials on well drinks and pints until 1 am. And then make your way to the famous Palermo club Kika where you attend…
Hype. An indie, electronica, hip hop night at club Kika run by DJ Matt Ashley and crew.
-Feel like a break from Spanish? Check out the Gringo weekly stand up comedy show in English at Bar Absinth, Bartolome Mitre 1695 at 9 pm. $25 pesos entry includes music and comedy show.
____________________________________________________
Get up, get out and do something this week in Buenos Aires!
The LandingPadBA Staff